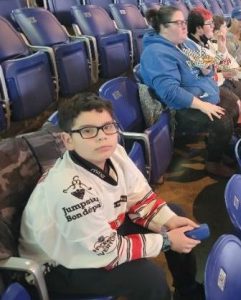 For Victoria HEROS player Caleb and his mom Kirsten, being a part of HEROS means being part of a larger community, and more importantly, an organization that goes "beyond hockey."
"I think it's an honour and a privilege for Caleb to have been invited into this opportunity," Kirsten said. "There's only so many spots, and lots of kids that might be interested don't get the opportunity. He's just really excited to be part of something."
Kirsten and her family didn't have a prior interest in hockey, and she viewed the sport as competitive and expensive. But that quickly changed after learning about the HEROS program through her son's school community office. Kirsten discovered that HEROS was different.
"It's using hockey as a vehicle for so much more," Kirsten said. "It's grown to become a national thing. I love the recognition that for our kids to thrive, they need role models within the community."
In addition to on-ice time and enthusiastic players, each HEROS chapter is filled with mentors ranging from coaches and volunteers to our founding members. These role models are dedicated to forming bonds with HEROS players, supporting their personal development and making a positive difference in communities. Kirsten credits Norm Flynn, President of HEROS, as being a "positive male role model in Caleb's corner and going above and beyond helping the players in the program."
She remembers when Caleb was going through a difficult time, and instead of simply making a telephone call, Norm travelled by ferry to visit Caleb and had lunch with him. This memory meant a lot to Caleb, and Kirsten herself saw the impact that the meeting had on her son and the positive response that was able to grow from that.
"I love the idea of taking up an activity and using it as a foundation for more, providing leadership opportunities to help kids develop social and life skills in a positive environment," Kirsten said.
In addition to mentors supporting players to take shots beyond the goalie net, across the country a sense of "camaraderie" can be found on and off the ice at HEROS because of the friendships made. A recent special experience where this sense of camaraderie and community could be felt was at a WHL (Western Hockey League) Victoria Royals game, which Caleb attended with the Victoria HEROS chapter.
"Caleb was right into the experience, he was having fun with his teammates," Kirsten said. "He saw some other people that he knew that were in some of the other minor teams cheering on the Royals. It was a really positive experience."
These are just some of many moments a program such as HEROS gives to the families it serves. With HEROS, you don't just get to play hockey, you also gain more than what you thought possible.