Canada Day is a day for Canadians to plunk down on sidewalks and watch the parades.  It's a day to acknowledge all those before us who have worked to give us such an incredible quality of life.  But Canada Day is also an opportunity for us to celebrate the people that live in our great country.
Juma is now one of them!
Juma came to Canada at the age of 5 years old.  Up until then, he had been raised in a refugee camp in Tanzania. He came with his aunt, leaving the rest of his family behind.  The last time he saw his mom in person was when he left Tanzania all those years ago.
His family settled in Edmonton, where Juma entered and attended school. He was always very quiet and shy and wouldn't engage with anyone at his school or within his community.  He would go so far as to not make eye contact with anyone, to avoid any possible interaction.  His shyness was getting in the way of building relationships in his new hometown.
This continued through Juma's early years of school and it got to the point that his school was suggesting speech assessments as there was concern about whether there was significant impairment. He had been displaying a keen interest in sports at school and it was hoped that HEROS would be a place for Juma to take part in a sport-a safe space where he could start to build some connections.
Juma first hit the ice with HEROS in Grade 4 and instantly showed an aptitude and athleticism that allowed him to pick up hockey quickly. Juma rarely (if ever) missed a week of practice.  He was the first one on the ice and the last one off- a habit that continues to this day, in his new role as a volunteer for the program.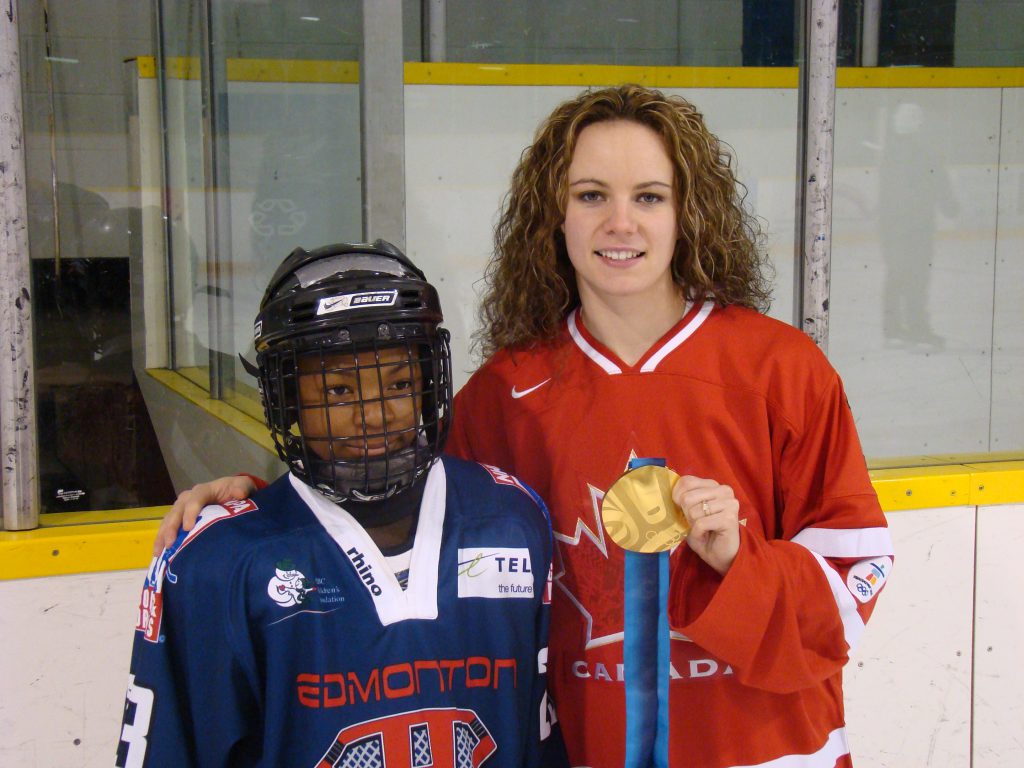 Juma came to love the game of hockey very quickly and he also began to show his big smile and personality he is known for now. With the gear on he was more comfortable talking, connecting with people, and letting people get to know him.
Juma's love of the game continued to grow and he loved being a HERO. He worked harder than anyone there. As he got older, his desires grew to play organized hockey but his family could not afford it. His on-ice ability was noticeable and he was ready for a new challenge
In his first year of Bantam, Juma was finally able to play community hockey which was not far off of playing quadrant hockey. HEROS provided him the gear and paid his registration, but he still needed to be able to get to the rink. The family didn't have access to transportation, and his aunt was starting a family of her own. HEROS Volunteer Mark Milner offered to ensure that Juma would get to all of his games and practices, becoming Juma's official Hockey Dad. Mark continued in this role for all of the years of Juma's hockey career, ensuring that Juma never missed an ice time.  Between Mark and the other parents on the team, Juma was able to play the game he loved dearly.
One of Juma's gifts was speed. He was quick and could win races to the puck… and for the first time, he was getting good coaching and learning game skills. In his second year of Bantam he played AAA and was even included in a WHL Development Camp in Calgary. Like may teams at this age and level, travel to the U.S for tournaments was part of the schedule, however Juma was unable to join his team as he was still here under refugee status and did not yet have Permanent Resident Status.
HEROS, along with their partner, the Boys & Girls Clubs: Big Brothers Big Sisters of Edmonton, and many of their volunteers took up the cause of supporting Juma and his family in getting him Permanent Resident Status which could lead to a passport so he could travel with his teammates.
Every step of the way presented a new challenge; lost forms, a government strike, and so many other roadblocks kept pushing Juma's application back father and Juma missed more and more team trips. Ultimately, Juma had to decline two invitations to NHL Hockey Is For Everyone Events in the U.S.
When Juma entered High School, he was introduced to Rugby, seeing it is a fun sport to play outside of the hockey season but also good training for hockey. By his grade 12 year, Juma was playing at the provincial level in rugby and was invited to try out for Canada's U18 & U19 rugby teams.
As a grade 12 student with Post Secondary goals, Juma was at the cross roads many young people find themselves at. Ensuring that academics was his first priority, knowing education led to more opportunities (which is why he came to Canada), Juma knew he had to say goodbye to one sport he loved so much. He did not register for another season of hockey, and HEROS became his only hockey program again. He had continued to attend weekly ice times and was serving as a peer mentor- learning to become a volunteer mentor as adulthood approached.
For the 2016/17 Academic year Juma entered MacEwan University studying business, and recently completed his first year with a 3.5 GPA. He continues to play rugby and serves as a Volunteer Mentor with HEROS in their weekly program.
On June 15 of this year, Juma became a Canadian Citizen in a ceremony at Government House in Edmonton along with 98 other new Canadians.
Juma's story (which includes lots of ups and downs and reasons to believe that Citizenship may not happen) shows what one young person with a dream, determination and a little bit of help can do. Juma's story is a great example of why HEROS is proud to be Canadian; Juma recognized opportunity and pursued it, with passion and determinaiton.
We live in the greatest county in the world where a young child can leave a dangerous place and be given a fresh start.  People like HEROS volunteers, Boys & Girls Clubs staff, Juma's hockey coaches, and especially individuals like Mark Milner can make major impacts in the life of a child.
You can too.